Metal Fabrication Manufacturing Equipment
Our metal fabrication facilities allow us to work on a vast range of work pieces. We are capable of fabricating small to large assembly work including high integrity machined components.
1. Metal Cutting
We have Amada CNC punching machine, laser cutting machine, and flame cutting machine for sheet metal cutting.
A.CNC punching machine is for 0.5mm-3mm thick plates, the max. cutting length is 6000mm, max. width is 1250mm.
B.Laser cutting machine is for 3mm-20mm thick plates, the max. cutting length is 3000mm, max. width is 1500mm.
C.Flame cutting machine is for 10mm-100mm thick plates, the max. cutting length is 9000mm, max. width is 4000mm.
2. Bending
We have 4 sets bending machine, 3 sets for sheet metal, 1 set for heavy steel.
0.5mm-15mm plates, max. length bending length is 6000mm, max tonnage is 20 tons.

3. Press Riveting
We have 2 sets pressure riveting machine to realize the reliable connection of two parts.
4. Welding
We have 4 welding platforms, 1 welding robot, 2 sets of welding rotators, 6 EN certified welder to ensure our qualified welding techniques.
5. Painting
We have our own painting line that meets the environmental requirements of the government, to provide one- stop metal fabrication for customer's different requirements.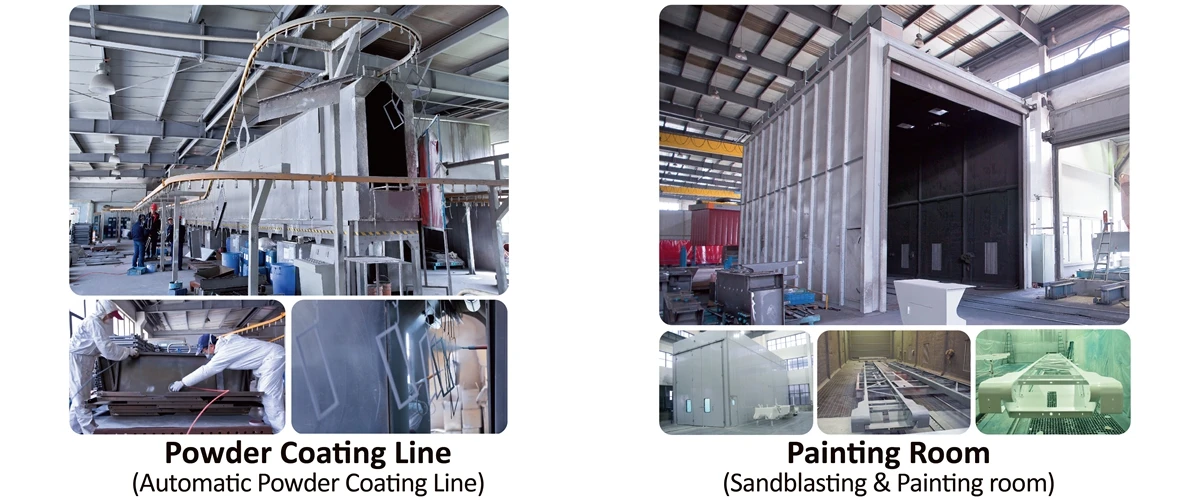 6. Inspection Equipment
We have quality inspection process in accordance with ISO9001:2008.